Zeo Sleep Device Sync
The Zeo ® Sleep Device Sync plugin allows you to automatically sync sleep data from your Zeo Personal Sleep Coach into SportTracks. The following information is downloaded daily from the myzeo.com website into the Athlete view:
Hours of Sleep
Sleep Quality
ZQ Score
Time in REM, Deep and Light sleep stages
Time awake
Using this information combined with the workout tracking features of SportTracks 3.0 you can look for correlations of your athletic performance and sleep habits. Is not getting enough quality sleep holding you back from a personal record? Now you can find out.
If you don't already have a Zeo Personal Sleep Coach, click below to read about this product:
Zeo Sleep Coach with SportTracks integration.
Setup
The first step to setting up SportTracks to sync with your Zeo sleep data: go to sleep!
Once you have data from a night of sleep, login to the Zeo website and upload your data.
Configuration in SportTracks is a few easy steps:
1) In the Other Tasks area select Settings and go to the Zeo Sleep Device Sync page
2) Click Configure
3) Enter the Username and Password you use to log in to the Zeo website and click Next >
4) If a connection is successful, your sleep data is downloaded. Click Finish to import the data
Once configured your data will be automatically downloaded and imported into your logbook each time you open SportTracks.
Reviewing Sleep Information
You will be able to review sleep data for each day you wear your Zeo Sleep Monitor once the information is uploaded to the website. This data is accessable on the Athlete view.
To view detailed data about a particular day:
1) Select the day you want to view
2) Select the Custom Data Fields page
3) View details for ZQ Score, sleep and wake stages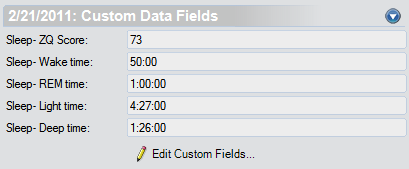 If you'd like to change the labels of the sleep info, click the Edit Custom Fields button.
You can also view any of the sleep data in a chart. Select the data you want to view in the chart, for example your ZQ Score: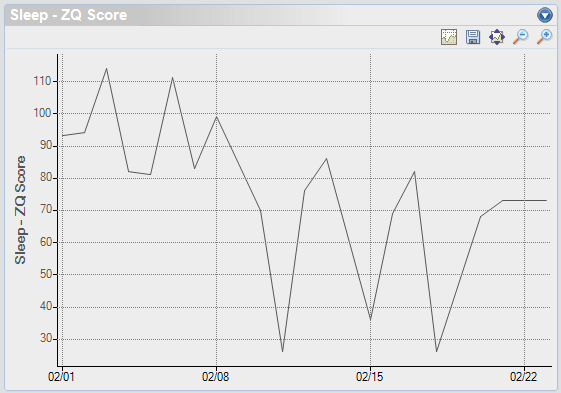 Finally, you may also view these fields in your athlete history list. Right-click the table and select List Settings, scroll to the Custom Data Fields area and select those fields you want to show.
Advanced Analysis
Any of the fields above can also be shown in the Activity Reports view along side your workout performance statistics such as speed, distance, or heart rate. With these charts, we can begin to look at associations between sleep and performance.
Taking it to the next level, the chart below illustrates what is possible using the correlation features of the Activity Documentation and Reporting plugin. Here I've charted my pace against the hours of sleep I'm getting: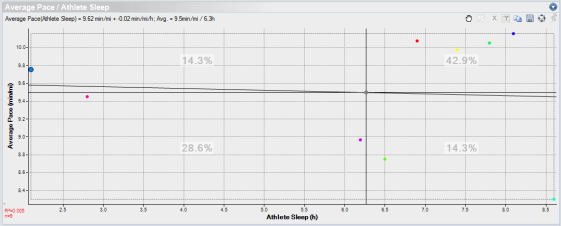 Go enjoy your sleep !
Now that Zeo has shut down, it would be really useful if someone could write a direct import plugin for the file on the memory card that the stationary beside Zeo device uses. I know this unit is considered the best sleep tracker out there, so demands should be pretty high for a plugin like this.
Could only get it to work by changing my password - see http://www.zonefivesoftware.com/sporttracks/forums/viewtopic.php?f=24&t=12304
Great integration, thanks