Posted:
Mon Jan 12, 2009 8:08 pm
Apologies for the long-winded post, but I thought I should chime in with what I've been reading about Intensity Factors for calcuting TSS.
According to Coggan's book "Training and Racing with a Power Meter", the TSS value of 100 was derived as a baseline measure by using a typical cycling activity -- racing a 40km time trial -- done at threshold HR or watts. Generally speaking a good cyclist can do 40km in an hour, hence one hour at threshold = 100 TSS.
Coggan also lists some Intensity Factor (IF) values in his book to multiply against the base TSS for other workouts (either above or below threshold).
Level 1, Active Recovery = 0.75
Level 2, Endurance = 0.75-0-85
Level 3, Tempo = 0.85-0.95
Level 4, Lactate Threshold = 0.95-1.05
Level 5 and higher = 1.05-1.15 etc.
TSS = (s x W x IF)/(FTP x 3600)
where s is seconds, W is watts produced, IF is intensity factor, and FTP is your tested functional threshold power (you can assume that your threshold HR is a roughly equivalent measure to FTP). Multiply the fraction by 100 to get the actual TSS value.
Since mechgt's plugin for Training Load appears to be based on minutes (a factor of 60) rather than Coggan's baseline (a factor of 100) -- i.e., an hour at threshold would count for 60 TSS points in the plugin instead of 100 -- what I did was multiply each of the IF numbers by 1.67 to get my values for my HR chart.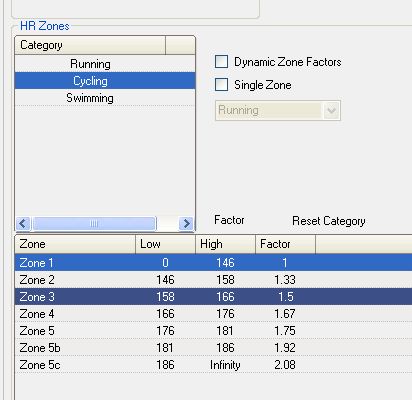 To make things even more complicated for runners, I was reading a bit about rTSS here,
http://kriskarsten.blogspot.com/2008/02 ... ormat.html
, and the idea that the cyclist's 40km TT is similar to the runner's 10k race. And that time spent at threshold as a runner is harder on your body than as a cyclist so that needs to be taken into account. Therefore, taking my 10km running time as 42 minutes (which is 70% of 60 minutes), I could then divide my calculated cycling intensities by 0.7 to get my running intensities for TSS.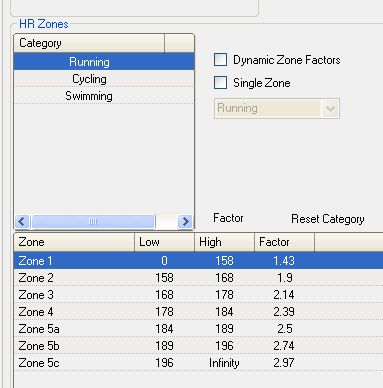 For example, my zone4 has an IF of 1.0 according to Coggan. Translated for the Training Load plugin, my cycling zone4 is 1.67 X 1.0 = 1.67. For running, it's (1.67 x 1.0)/0.7 = 2.39.
Hope this makes sense for people (and I hope I've done the math right! But I did check my results against some 5k running races and 1 hour cycling races and the calcuated TSS scores seem to make sense).