Training load Fitness not right on Mobi?
Posted:
Fri Oct 12, 2018 8:42 am
I don't think the training load and performance analysis under Health on sporttracks.mobi is working very well. It's Mobi's implementation of a performance management chart right? Fatigue is equivalent to acute training load, Fitness is chronic training load and Performance is the difference between them aka training stress balance.
The time constant used for Fitness appears to be far too aggressive. Fatigue and Fitness track each other too closely. Fitness is acquired over a longer term, should have a much longer time constant and be less sensitive to day-to-day changes appearing smoother.
The problem is demonstrated in the first chart on Sportracks
own page
which shows the effect of immediate cessation of training.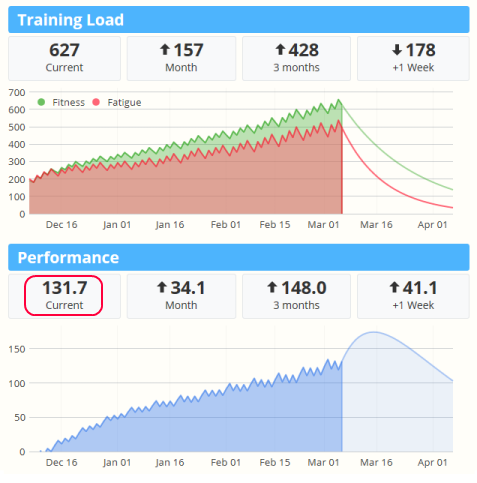 First of all, Fitness should be smoother, not following exactly the same sharp day-to-day variation as Fatigue. Fatigue falls off rapidly, almost to zero within 30 days as you'd expect. However Fitness falls off at an almost similar rate, dropping by ~80% in the same period. You should only expect to see fitness drop by a half in a month.
A commonly accepted time constant for fatigue / ATL is 7-10 days, so you would expect it to fall to zero in a month. However Fitness is typically 40+ days, it should take up to 3 months to settle. Mobi seem to be using more like 15 days which is too short.