Back in 2011, Finis released the
Swimsense
- a watch that promised to do for your indoor pool workouts what Garmin did to your running and cycling back in 2005 with the first wrist GPS watches.
Using accelerometer tech - just like footpods and pedometers - the Swimsense claimed to figure out individual stroke patterns from arm movements and count your stroke, pace, distance, SWOLF and efficiency scores - all automatically.
It delivered exactly what was claimed, and in February 2011 we added support for the watch.
Now Garmin has entered the arena with the
Forerunner 910XT
multi-sport watch. This just released watch targeted at triathletes doubles as a standard GPS watch -AND- an indoor pool watch.
With the new 3.1 release we have added import support for the 910XT swimming metrics, along with new data tracking and charting features.
To import your 910XT data, use the file import feature to read the .FIT files directly from the ANT Sync folder. All the data is automatically pulled into the new swimming metrics fields.
For a single swimming workout, switch to the
Splits
page and right-click on the table to add the new swimming columns. Below is a list of the possible columns: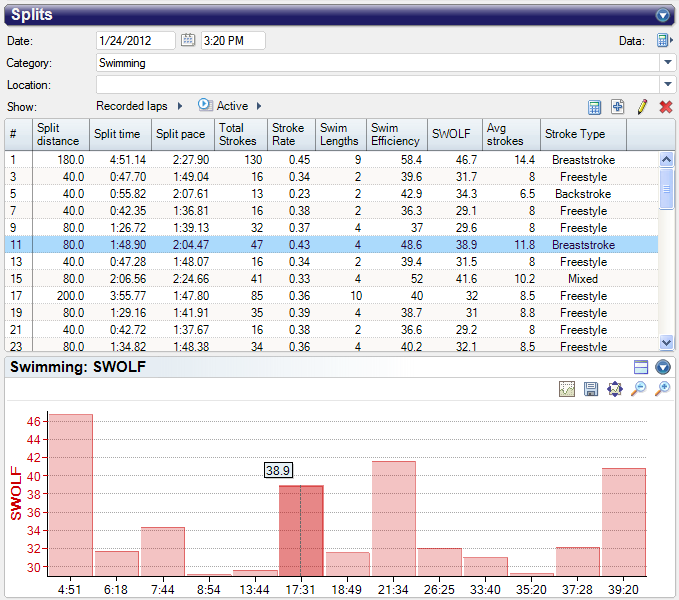 From the screenshot above you'll notice you can also chart swim metrics for each lap:
Avg strokes
SWOLF
Efficiency
Stroke rate
As with all SportTracks charts, you can overlay these on top of any other metrics such as time, distance, etc.
In the
Activity Reports
view you will also see these same metrics in the list -AND- in the bar and line chart: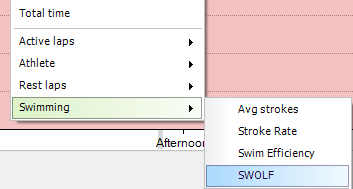 Similar to laps, you can also overlay these charts with other metrics, and just like all the other metrics, you can group and filter these by week, month, year, distance, location, time of day, and much more. It's a great way to monitor your performance over time.
So if you just got a new Forerunner 910XT it looks like it's time to hit the pool!
Get the SportTracks 3.1 update here:
Download Software Updates
Site Admin

Posts: 2916
Joined: Tue Apr 05, 2005 8:52 pm
Location: USA
---
Who is online
Users browsing this forum: No registered users and 2 guests